Daily Fitness Opportunities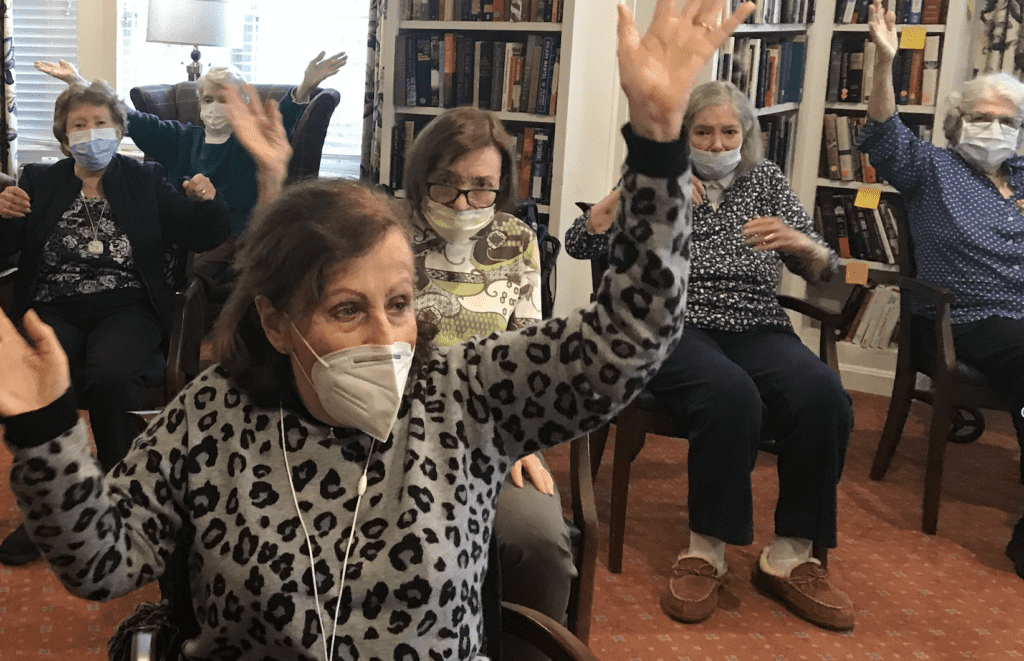 At Goddard House, we believe it is of great importance to provide our residents options to stay physically and mentally fit. We have two fitness studios and terrific instructors. Many of our residents are fitness forward and routinely enjoy weekly trainer one-on-ones, daily morning exercises with their favorite instructors and dancersizing to hit songs. We offer fitness options in two designated studios for both our Traditional Assisted Living Residents and our Olmsted Place Memory Support Neighborhoods. We also create regimented weekly fitness calendars, which allow for consistency to support memory care while offering different fitness classes everyday to give residents options.
Below are the fitness opportunities provided for each group:
Traditional Assisted Living
Mindfulness Classes – Once a year for 8 weeks, these classes offer different meditation and mindfulness techniques to keep the brain sharp
Dancercise – a combination of dancing and exercising to the beat of classic hit songs
Morning Stretches
Weekly one-on-one classes with fitness instructors
Walking Partners to get daily steps in while enjoying each other's company
Pilates, Yoga and Tai Chi offered each week by certified group leaders
Training with 'Forever Fit' Leaders
Olmsted Memory Support
Traditional Seated Exercises
Healing Hearts Yoga and Tai Chi Classes
Walking Partners to get daily steps in while enjoying each other's company
Balloon Volleyball, Bowling Games, Ladderball and More!
Dance Class with Instructor
Late Afternoon Stretching Groups – Refresh and Relax
Balance Classes
We are still staying fit!
At Goddard House, we are keeping residents active with safe, physically distant exercise and fitness classes. We have also implemented creative virtual opportunities for residents to stay engaged. Ask us about it when you tour!