Awards & Achievements
At Goddard House, we enjoy a strong reputation of receiving various awards for our innovative programming, whole body approach to wellness and commitment to giving residents the best possible quality of life. We also give out several internal awards to members on our dedicated team of associates, the main one being the Phyllis Vineyard Award, named in honor of our former Vice President.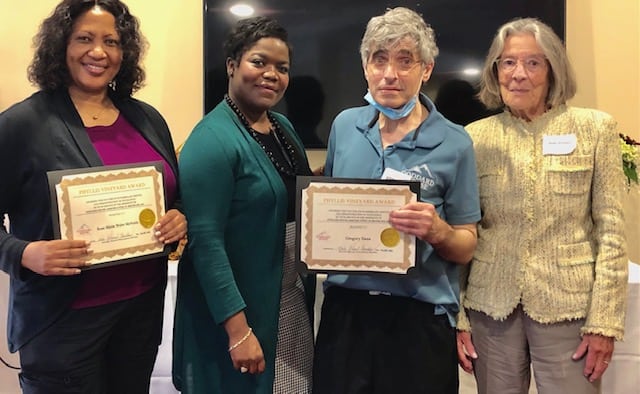 Phyllis Vineyard Award for Exemplary Service:
Phyllis Vineyard served as Vice President and member of the Goddard House Board of Trustees for many years. She showed deep dedication to Goddard House for decades and strived to maintain an excellent, ethical working environment for all. Each year since 2011, the Board has given this award to two Goddard associates in Phyllis' honor.
The award is given to those demonstrating excellence and commitment in service to Goddard House — from resident care and from the general staff. One award winner is always chosen among our caregiving staff, while the other is given to a member of another department. A Phyllis Vineyard Awards Luncheon is held annually, at which Phyllis herself presents the awards.
Award Winners:
Gregory Dana, Dining Associate (2021)
Rose Marie McNeish Waite, RCA (2021)
Adeline Michel, RCA (2020)
Eugene Mbukanma, Dining Room Manager (2020)
Oxane Leveque, RCA (2019)
Emmanuel Winnie, Dining Associate (2019)
Rose Gabriel, PCA, Assisted Living (2018)
Joseph Harris, Maintenance Associate (2018)
Patricia Smith, Lead RCA, Olmsted (2017)
Jorge Najera, Dining Associate, Dining (2017)
Tammy Goodhue, Lead PCA, Olmsted (2016)
Betty Depina-Gomez, Housekeeping (2016)
Ginny Mazur, Community Partnership Director (2016)
2020 Awards
Wicked Local Readers Choice Awards

#1 Best Assisted Living in Brookline
Bronze Award for the Region in Assisted Living Category
2019 Awards
SAGECare

LGBT Cultural Competency Training, Platinum level

Wicked Local Readers Choice Awards

#1 Best Assisted Living in Brookline
Silver Award for the Region in Assisted Living Category

Goddard House Associate of the Quarter
2018 Awards
Brookline Tab Newspaper

Readers Choice Award: #1 Choice Retirement Living Residence
Readers Choice Award: #1 Assisted Living Community
Readers Choice Award: Regional Silver Award Metro Boston
2017 Awards
Alzheimer's Association

2017 Greater Boston Walk to End Alzheimer's – Lance Chapman – Chair

Leading Age National Conference

Ginny Mazur and Lance Chapman presented Growing the Farm at Goddard House in collaboration with Green City Growers and Yardbirds Backyard Chickens.

Leading Age Massachusetts
2016 Awards
Massachusetts Assisted Living Facilities Association

2016 Program Innovation Award (Growing the Farm at Goddard House)
2016 Employee Leadership Excellence Award: Mike Nelson

Presentations

Growing the Farm at Goddard House at the National Center for Creative Aging International Leadership Exchange, Washington D.C. and Massachusetts Assisted Living Association Conference and Tradeshow – Ginny Mazur
A Walk Around the World, Pecha Kucha Presentation at National Center for Creative Aging Leadership Exchange

Media

Growing the Farm at Goddard House, 2016 Brookline Interactive Group (Television/Web)

Alzheimer's Association MA/NH Chapter

2016 Greater Boston Walk to End Alzheimer's – Lance Chapman, Chair

Marie Curcio, Certified Positive Approach Trainer (with Teepa Snow)

For care partners of individuals living with dementia

Dementia Friendly Advisory Group, Massachusetts Executive Office of Elder Affairs
2015 Awards
Leading Age

2015 Volunteer Award Nominee: Michael Cassidy

Massachusetts Assisted Living Facilities Association

2015 Sales and Marketing Excellence Award: Lance Chapman
2014 Awards
Leading Age

2014 Outstanding Mentor Award: Marie Curcio

Jewish Vocational Services

Transitions to Work Partner Award

Brookline Tab Newspaper

Readers Choice Award: #1 Choice Retirement Living Residence

Massachusetts Assisted Living Facilities Association

2014 Employee Leadership Excellence Award: Ginny Mazur
2013 Awards
Brookline Tab Newspaper

Readers Choice Award: Best Assisted Living Community
2012 Awards
Brookline Tab Newspaper

Readers Choice Award: Best Assisted Living Community
2011 Awards
Massachusetts Assisted Living Facilities Association

2011 Executive Director Award: John Moniz

LeadingAge Massachusetts

2011 Community Service Award: Ginny Mazur

Brookline Tab Newspaper

Readers Choice Award: Best Assisted Living Community (Runner Up)
2010 Awards
Brookline Tab Newspaper

Readers Choice Award: Best Assisted Living Community
2009 Awards
Brookline Chamber of Commerce

Business of the Year Award