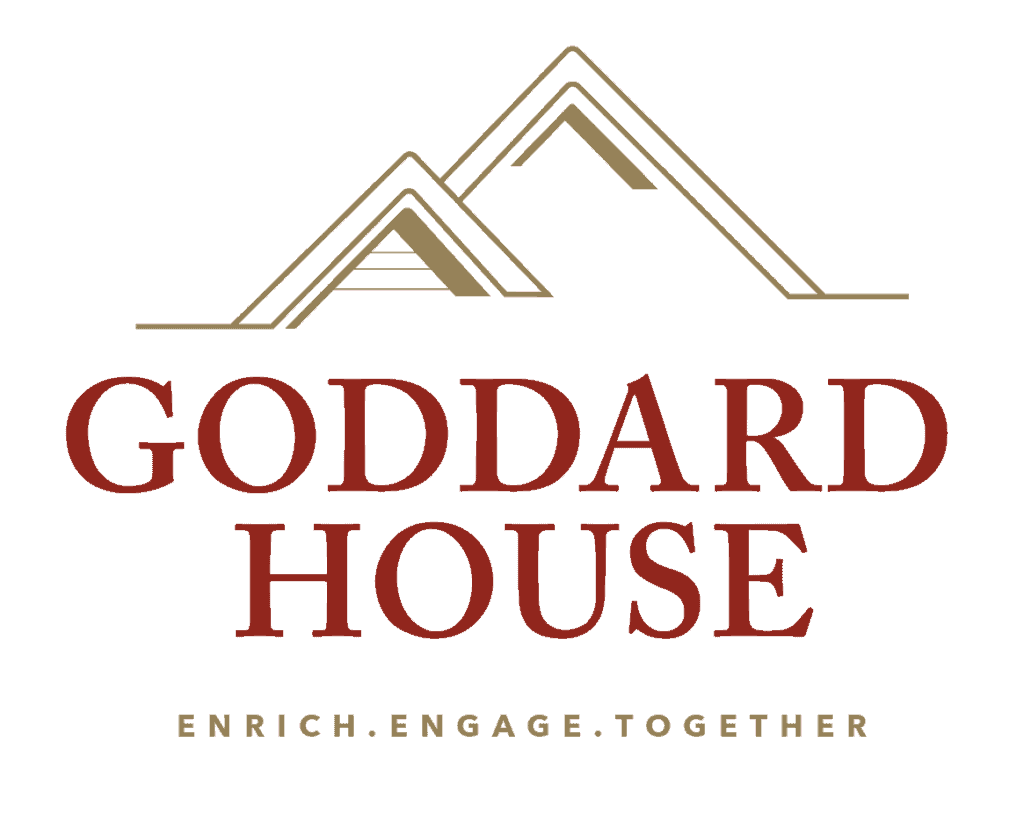 Creative Aging Programs
Individuality

,

expression

,

social connection

and

innovation

are all driving forces behind Goddard House Community Initiatives, which engages diverse older adults from Greater Boston in participatory programming that includes art, music, dance and other forms of creative expression.

Many older adults, even those living in densely populated urban communities, encounter social isolation and loneliness. Goddard House Community Initiatives was created to share Goddard House's creative energy, bringing the joy and fellowship of the arts to older adults living in the community.
Opening Minds through Art (OMA) in the Community
---
Opening Minds Through Art (OMA) was introduced in the summer of 2021 and is currently being piloted at Mt. Pleasant Home, a nonprofit residential care community, home to 60 older adults in Jamaica Plain.  A signature program at Goddard House since 2016, OMA is an award-winning, evidence-based, intergenerational, abstract art-making program for older adults and those living with dementia.  The goal of OMA is to challenge assumptions and build respect and genuine connections between older adults and volunteers/student interns as they come together through artmaking.
The OMA in the Community year-long pilot has enabled Boston-area undergraduate student volunteers to undergo training about the OMA process and engage one-on-one with Mt. Pleasant Home residents in small groups for 8-week art-making programs. The sessions culminate in a gallery exhibition celebrating the artists' accomplishments while educating the public about the creative capacities of older adults.
After observing the artwork of his fellow art participants, John remarked, "This project was really fun. Each artwork really reflects the person who created it."
"This class makes me feel like I am somebody. It makes me feel like myself again." – Douglas
"I actually learn things like what colors go well together." – Lydia
On the last day of working with student volunteer Katelyn, Doug turned to her and said, "If there is anything I'm going to remember about this class, it's that I'm going to remember you!"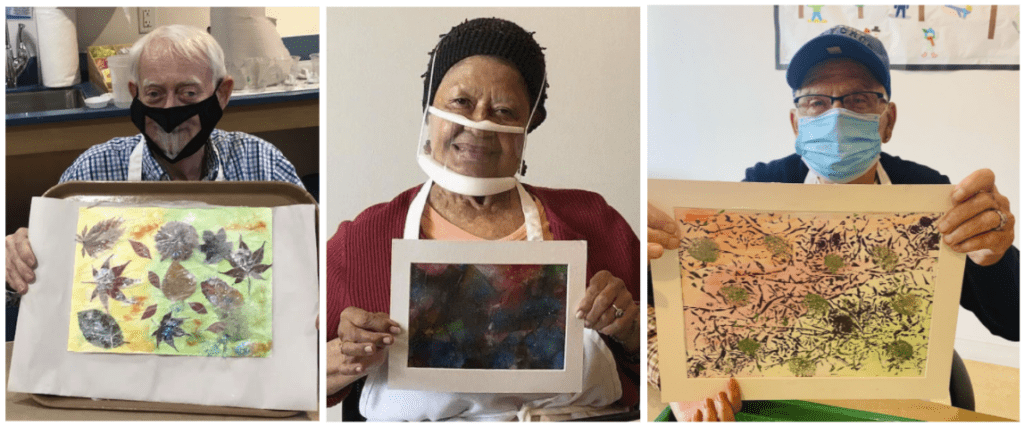 Creative Arts
---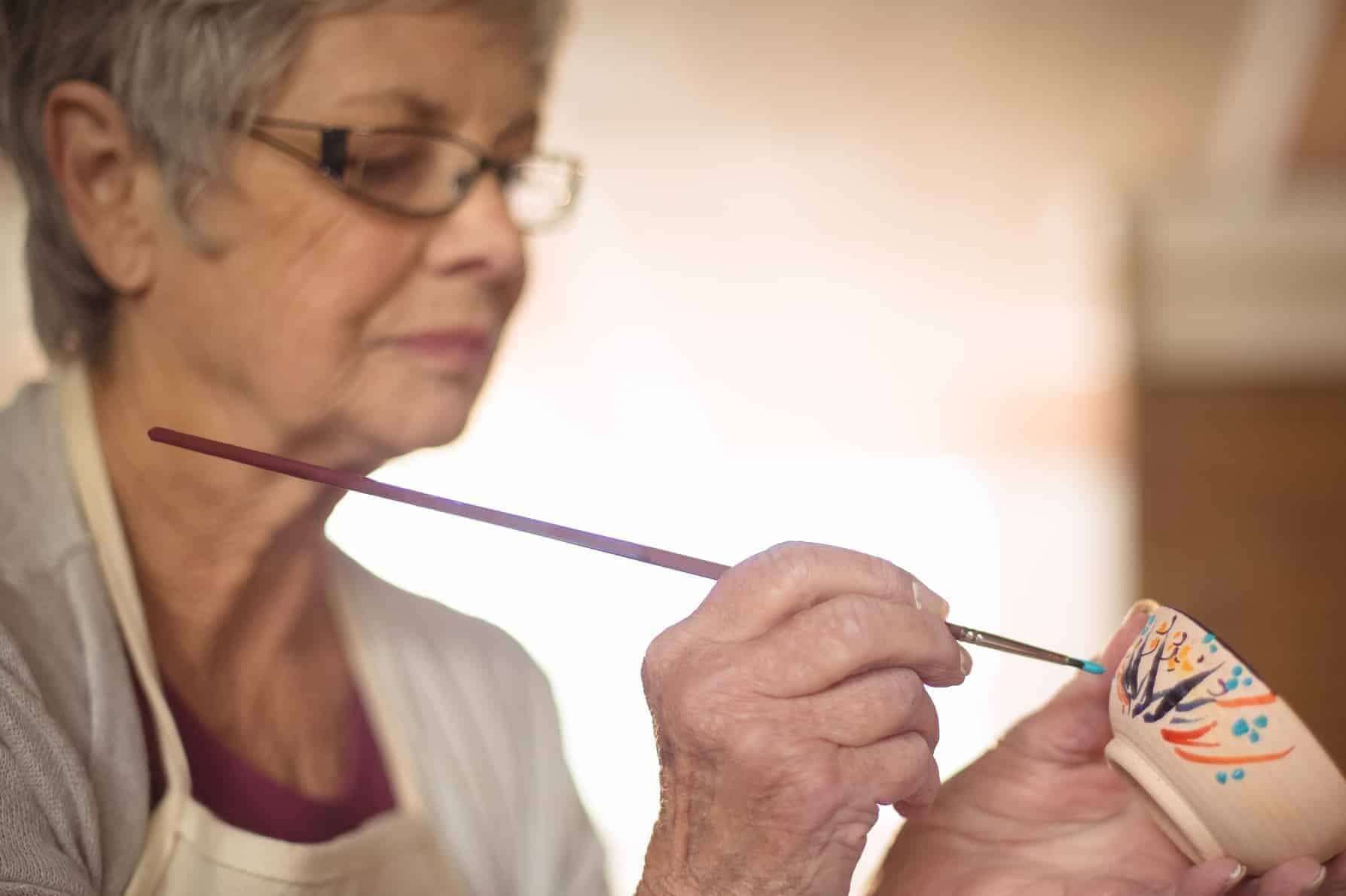 Goddard House is currently collaborating with the City of Boston's Age Strong Commission, and the Mayor's Office of Arts and Culture to bring Creative Aging Programs (CAP) to older adults throughout the City of Boston. Through CAP, the program partners are providing diverse, vibrant, and creative aging programming aimed at empowering older adults to age well and remain socially connected.
For more information on CAP, check out the pilot program press release!
MusicWorks
---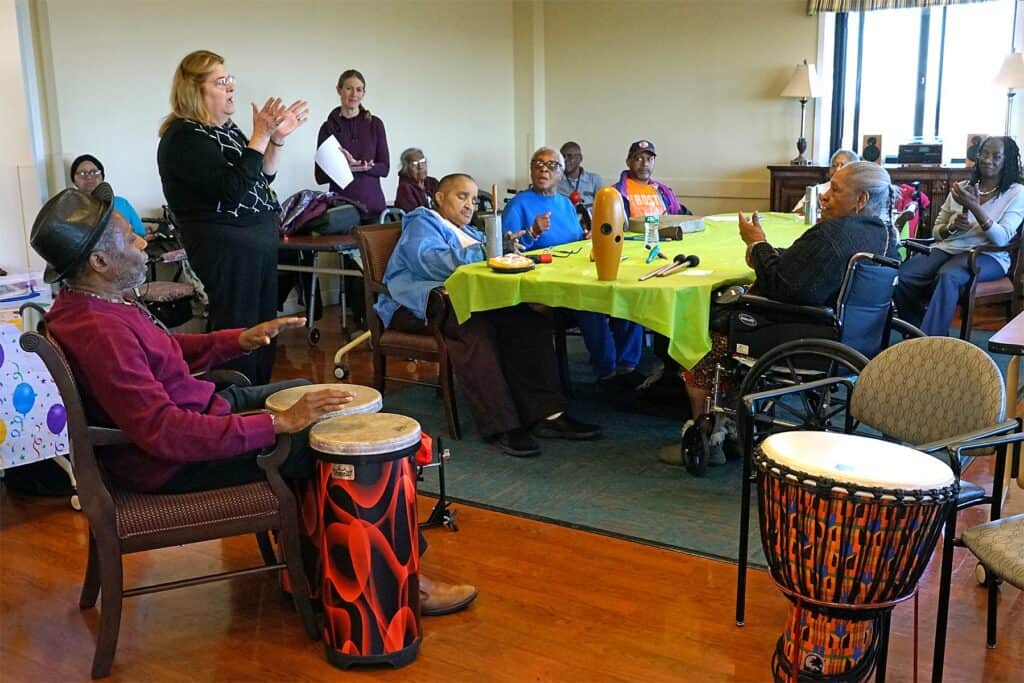 For the past five years, Goddard House has collaborated with FriendshipWorks in Jamaica Plain to offer MusicWorks, a program that reduces social isolation among older adults through the shared experience of music. MusicWorks brings participatory music and arts activities to residents of affordable senior housing in Jamaica Plain and Roxbury. Residents of these buildings have limited opportunities to connect with their neighbors.
MusicWorks offers socialization and engagement through culturally-tailored arts sessions. Participants are encouraged to be as hands-on as they desire by listening to live music, playing instruments, singing, dancing and drawing to the music. The program provides an opportunity for older adults to talk about what the music evokes by discussing what was popular at a specific time in their lives or their favorite genres, songs or artists.
Currently, there are over 250 participants in the program. MusicWorks has experienced continual growth in its commitment to build individual and collective connections through music.