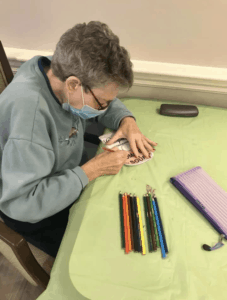 Residents of the Olmsted Place Memory Support Neighborhood recently participated in an Andy Warhol inspired activity as part of their daily "Today in History" program.
Paying homage to Warhol's Campbell's Soup Cans, residents colored in soup can drawings to be placed on watercolor backgrounds. They also viewed some of his famous pieces and learned about his life and work.
Olmsted Place is a secure memory care neighborhood specifically designed for those with Alzheimer's and related dementia. Olmsted residents enjoy Reconnections, a research-based adult learning program that embraces the idea that the desire and ability to learn does not diminish with age.
Learn more about Olmsted Place Memory Support by clicking here.
Read more in the Brookline TAB.