Goddard House Assisted Living Raises LGBT Pride flag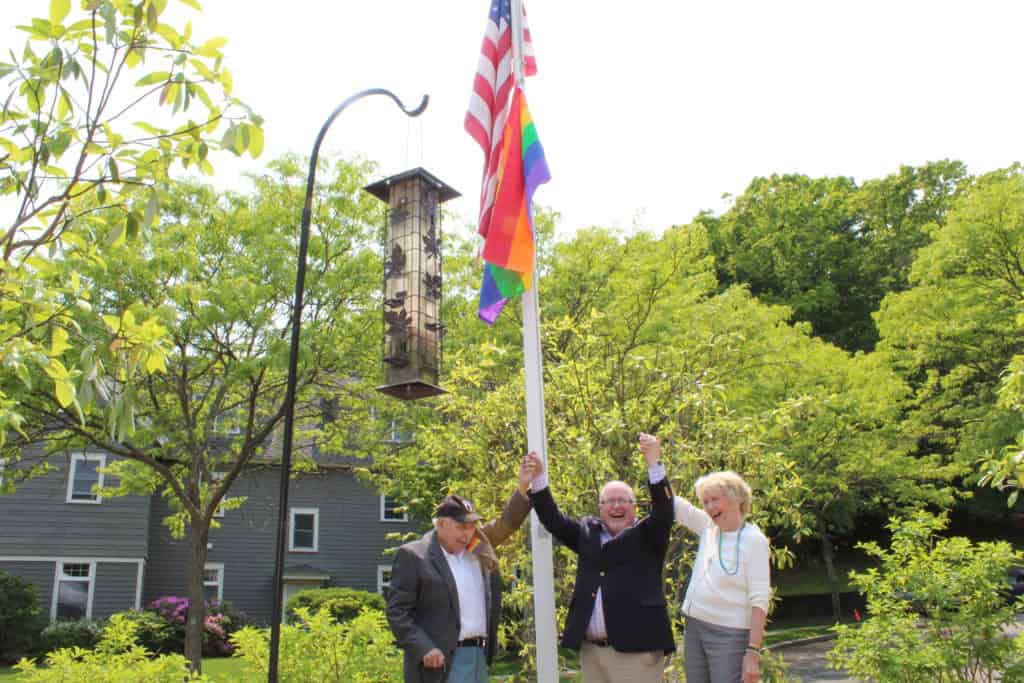 BROOKLINE, MA — On Friday, May 31st, Goddard House Assisted Living and Olmsted Memory Support in Brookline held their first annual LGBT Pride Flag Raising to kick off Pride Month. Residents, families and community members gathered to hear local leaders speak and to witness the raising of the pride flag, which will remain raised throughout the month of June.

This ceremony also doubled as a celebration, as associates from the senior community recently participated in a specialized training program to become the first assisted living community in Massachusetts to receive LGBT Cultural Competency Accreditation, through SageCARE. More than 80% of managers and frontline staff at Goddard House completed training, giving the community a Platinum ranking, on how best to support LGBT older adults, create and maintain an inclusive community, and provide the best care for these individuals.

Barrie Atkin, Executive Producer of the critically-acclaimed film Gen Silent, spoke at the flag raising about the unique challenges faced by LGBT older adults and how Goddard House has been on the forefront of acceptance and inclusivity for the past decade. "It gives me great hope," Atkin expressed, "that when I'm in need of assisted living, Goddard House and others that follow your example will be welcoming beacons."

Lloyd Gellineau, Chief Diversity Officer for the Town of Brookline, also spoke, congratulating Goddard House on behalf of the Town of Brookline and Department of Diversity, Inclusion & Community Relations on their recent SAGECare Accreditation. "Your achievement also serves as a model of how systematic intervention, dedicated leadership and committed staff can effect positive change."