Dear Goddard House Friends and Colleagues:
Goddard House is proud to provide enriching experiences which support purpose, engagement, autonomy, and choice for our assisted living residents and the community at large. I am delighted to share a few 2018 highlights, and I hope you will contribute to our Annual Appeal to keep our momentum strong.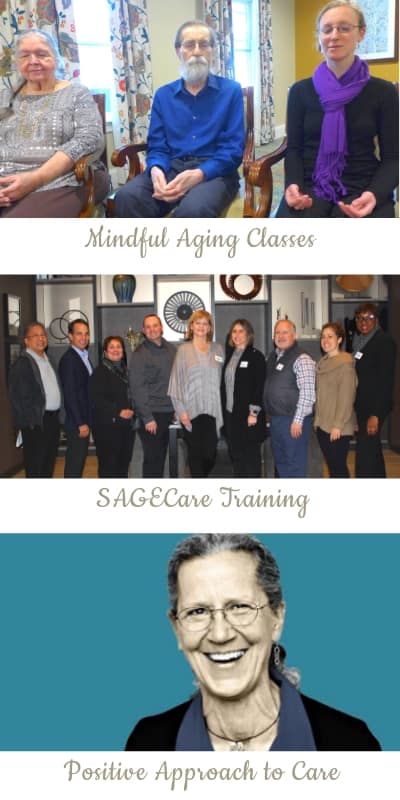 New Innovations
The Reunion Project, a narrative photography exhibit featuring Goddard House women then and now, toured Brookline. Participants spoke on a panel at Brandeis University which invited a lively discourse about women and aging.
Resident artists including those in Opening Minds through Art (OMA) displayed their work in four exhibits. OMA pairs people with dementia with a partner who is trained to focus on remaining strengths instead of lost skills. Participants generate feelings of accomplishment and joy.
Residents and community participants provided valuable insights to improve the UMass-led Mindful Aging course, resulting in coverage by PBS Next Avenue.
Residents are engaging together in bold leadership roles. One group staged the first "mini" Walk to End Alzheimer's in front of 165 Chestnut Street, raising over $1,200! Others are leading peer groups ranging from film studies to poetry appreciation.
Care & Management Professional Development
Goddard House leadership and staff continue to learn and incorporate best practices in care and management.
Our new Executive Director, Carolyn Sandel, brings years of experience in aging services and a love of Brookline.
Lance Chapman, in his new role as Assistant Executive Director, is participating in a year-long fellowship with the LeadingAge MA Leadership Academy.
Olmsted Place Memory Support staff trained with master teachers from Teepa Snow's Positive Approach® to Care, a model which creates increased dignity and engagement for residents.
Staff participated in LGBT competency training with SAGECare, to understand and meet the unique needs and concerns of LGBT older adults.
Recognition
Goddard House received three Readers Choice Awards in 2018 from the Brookline Tab. The residence continues to be warm and welcoming with recent improvements to the interior and outdoor spaces.
Please support our commitment to innovation and creative aging with a generous online donation to our 2018 Appeal. Donations from 2017 supported staff training as well as music and dance therapies and Mindful Aging. Your generosity will enrich our community and help our residents to live fully engaged lives. On behalf of all of us, I wish you happy holidays!
Sincerely,

Alexandra Schweitzer, President
Goddard House Board of Trustees